Wedding season means creating countless Pinterest boards filled with all your inspo photos of the perfect dress, makeup look & bridal hairstyle.
If you have a wedding coming up or you've snagged an invite to a wedding happening soon, we've got you covered.
Todays article will feature wedding hairstyles perfect for long hair, short hair, brides, bridesmaids, guests and more.
Love a dutch braid, French braid, half up, half down or layered up do? Here's 50 bridal wedding hairstyles perfect for any bride or style.
1) Volume curls
Volume curls layered in a high ponytail are an exquisite combo.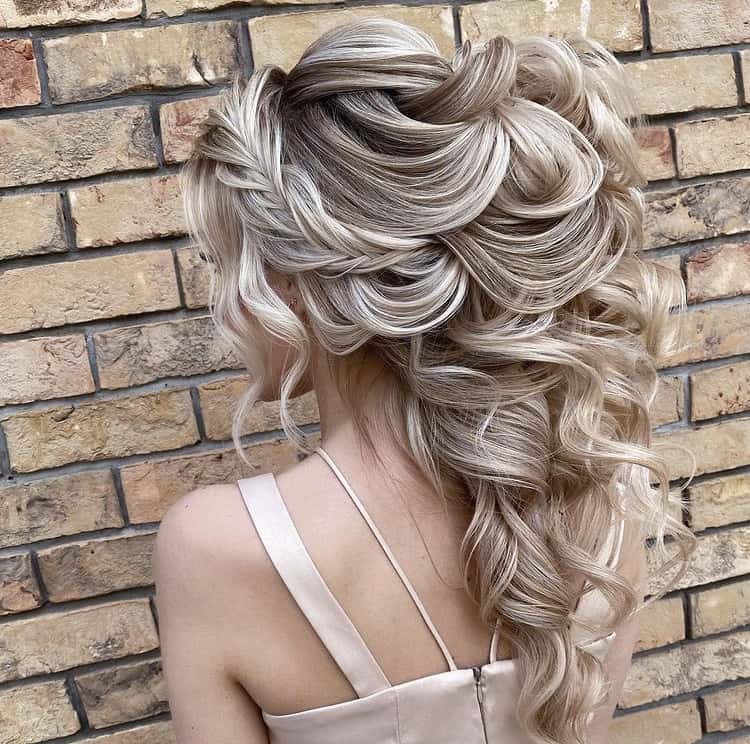 2) Volume curls in a high pony
High ponys are simply stunning.
3) Mid part curls
Mid part curls in a low bun.
4) Simple mid part
A simple textured mid part.
5) Pull through braids
A messy pull through braids bridal hairstyle. Feel free to incorporate some extensions if your hair is thin or short.
6) Half up half down
A half up half down combo with braids.
7) Half up bridal hairstyle
A messy half up hairstyle with braids is perfect for brides who want a simple look.
8) Braids and a pull through
A textured half up hairstyle with a pull through braid.
9) Pull through braids
A classic simple and time efficient bridal hairstyle.
10) Simple half up hairstyle
Perfect for brides and bridesmaids.
11) Low Ponytail with braids
Another simple yet stylish look for your big day.
12) Curls and braids
Simple curls and one braid.
13) Half up hairstyle with a bow
Another simple yet elegant bridal hairstyle.
14) Simple messy braids
Use clip in extensions to get more volume for this look.
15) Loose up style with a braid
This bridal hairstyle is perfect for when you want to show the back of your dress.
16) Braided low ponytail
The start pins are the perfect finish for this bridal hairstyle.
17) Half up textured hairstyle
Don't shy away from accessorising with some clips.
18) Textured half up hairstyle
Curl your hair and loosely tie it as desired.
19) Braids with flower details
A perfect style for when your dress has an open back.
20) Half up hairstyle with flower details
A perfect style for when you want some volume without the use of extensions.
21) Simple bridal updo
If you love voluminous hair, this style will be perfect for you.
22) Half up updo
A half updo and simple curls.
23) Braids and perals
A gorgeous braid with pearl hair clips for that extra pop.
24) Boho braids
Messy fishtail braids for that boho vibe.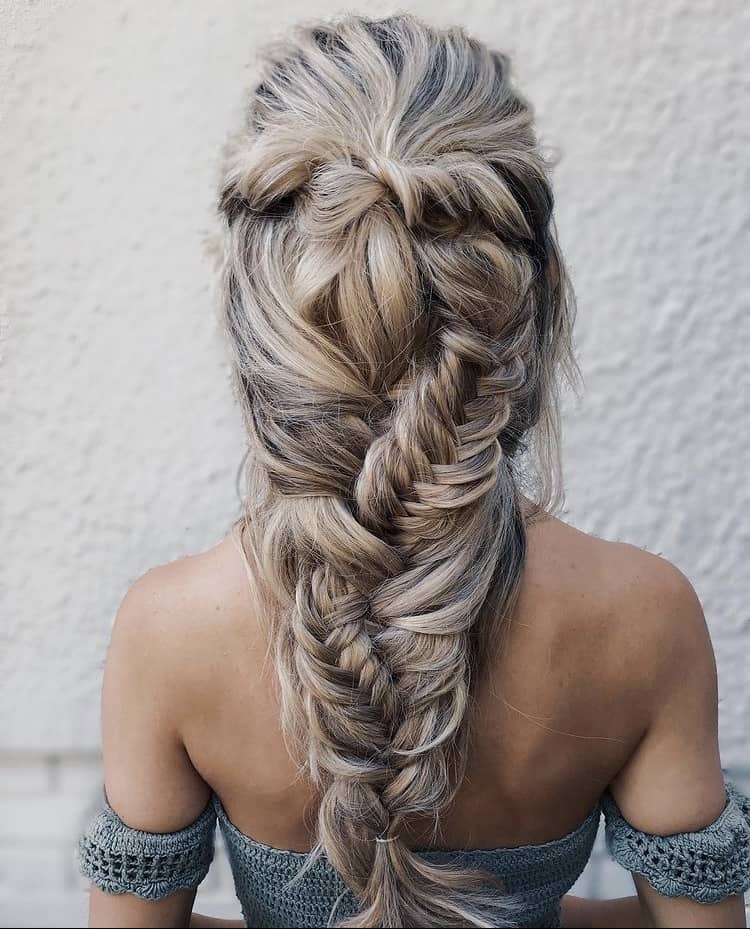 25) Textured half up hairstyle
Textured messy half up hairstyle with accessories.
26) Two pull through braids
This style is perfect for your flower girls.
27) Simple pull through braids
A simple pull through braid.
28) Middle part with waves
This color makes this hairstyle even more stunning.
29) Braids into messy buns
Textured braids into a messy low bun with accessories.
30) Textured low bun
A beautiful textured low buns with pearls.
31) Simple textured pull through braids
Another simple look for when you don't want any hair in your face on your big day.
32) Boho braids
The perfect beach wedding hairstyle.
33) Boho braids
Boho braids with flower details are perfect for beach weddings or bridal shoots.
34) Textured boho hairstyle
A perfect go to for when you want your hairstyle to accentuate the back of your dress.
35) Dutch braid bridal updo
Dutch braids into a low textured bun.
36) Messy fishtail braids
Simple messy fishtail braid combos.
37) Bridal half updo hairstyle
A classic go to for many.
38) Dutch braids into a braided bun
A simple dutch braids into a gorgeous braided bun.
39) Twisted French braids
Simple twisted French braids.
40) French fishtail braids
The perfect sister braids combo.
41) Dutch braids
You can never go wrong with dutch braids.
42) Pull through braids
Simple pull through braids in a mohawk style.
43) Chunky dutch braids
Dutch braids look even better on dyed hair.
44) Pull through updo
A pull through updo into a messy bun.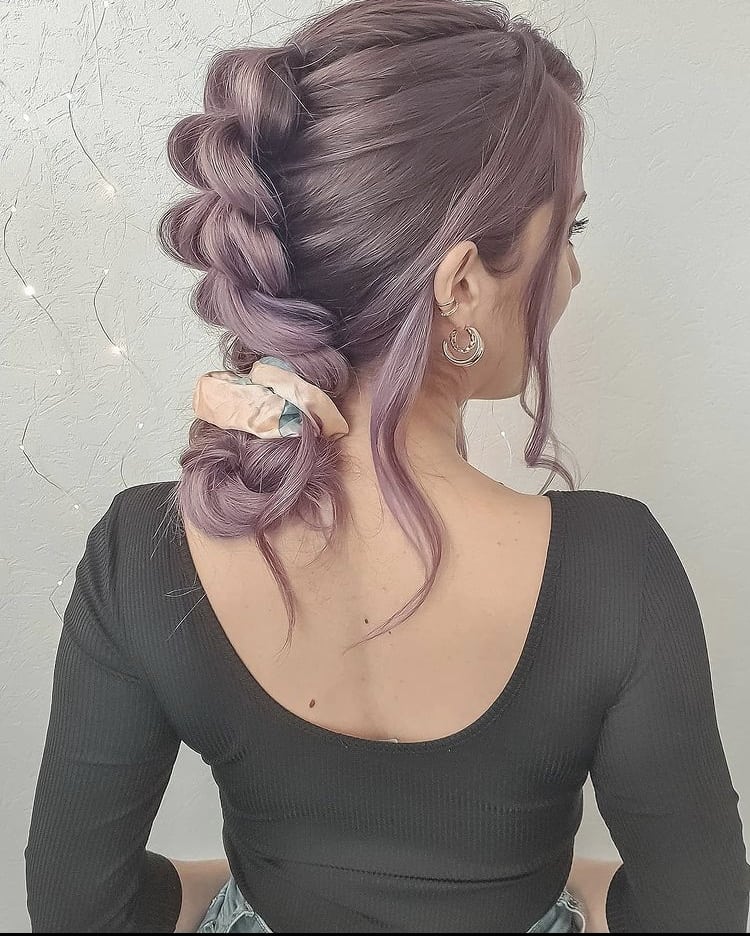 45) Quick low bun
A perfect hairstyle for when you're short on time.
46) Chic ponytail
A chic ponytail with pearls is simple and elegant.
47) Dutch braids with pearls
Dutch braids accessorised with pearls.
48) Braids and butterflies
Dutch braids with butterfly accessories.
49) Double dutch braids
Double voluminous dutch braids.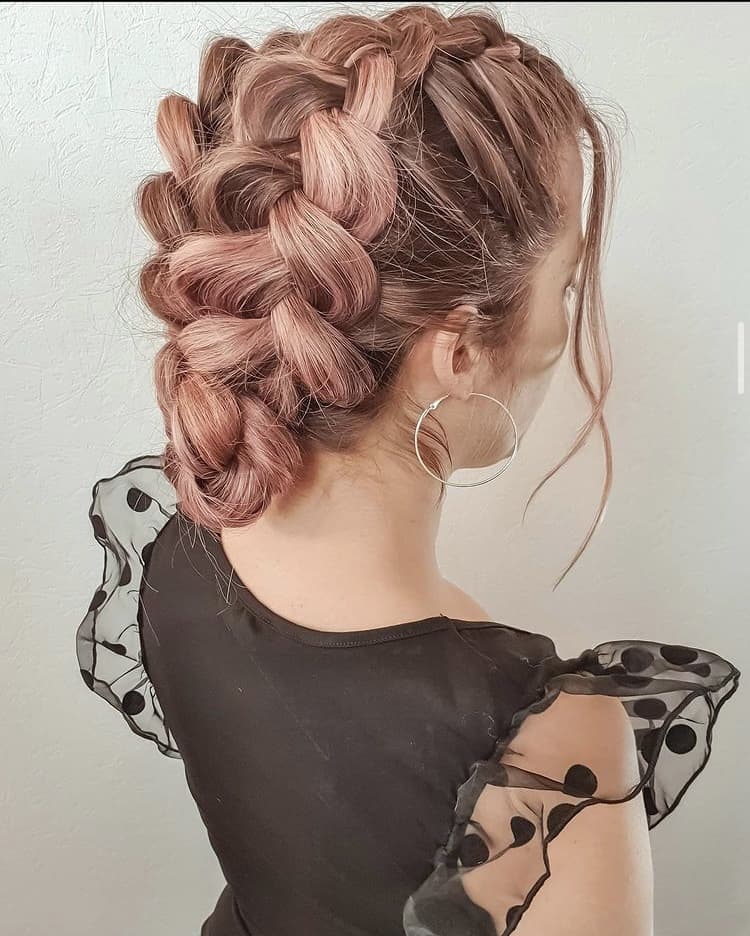 50) Double dutch braids with curls
A forever classic.